Top 5 Marketing Software Solutions for
Short-Term Rentals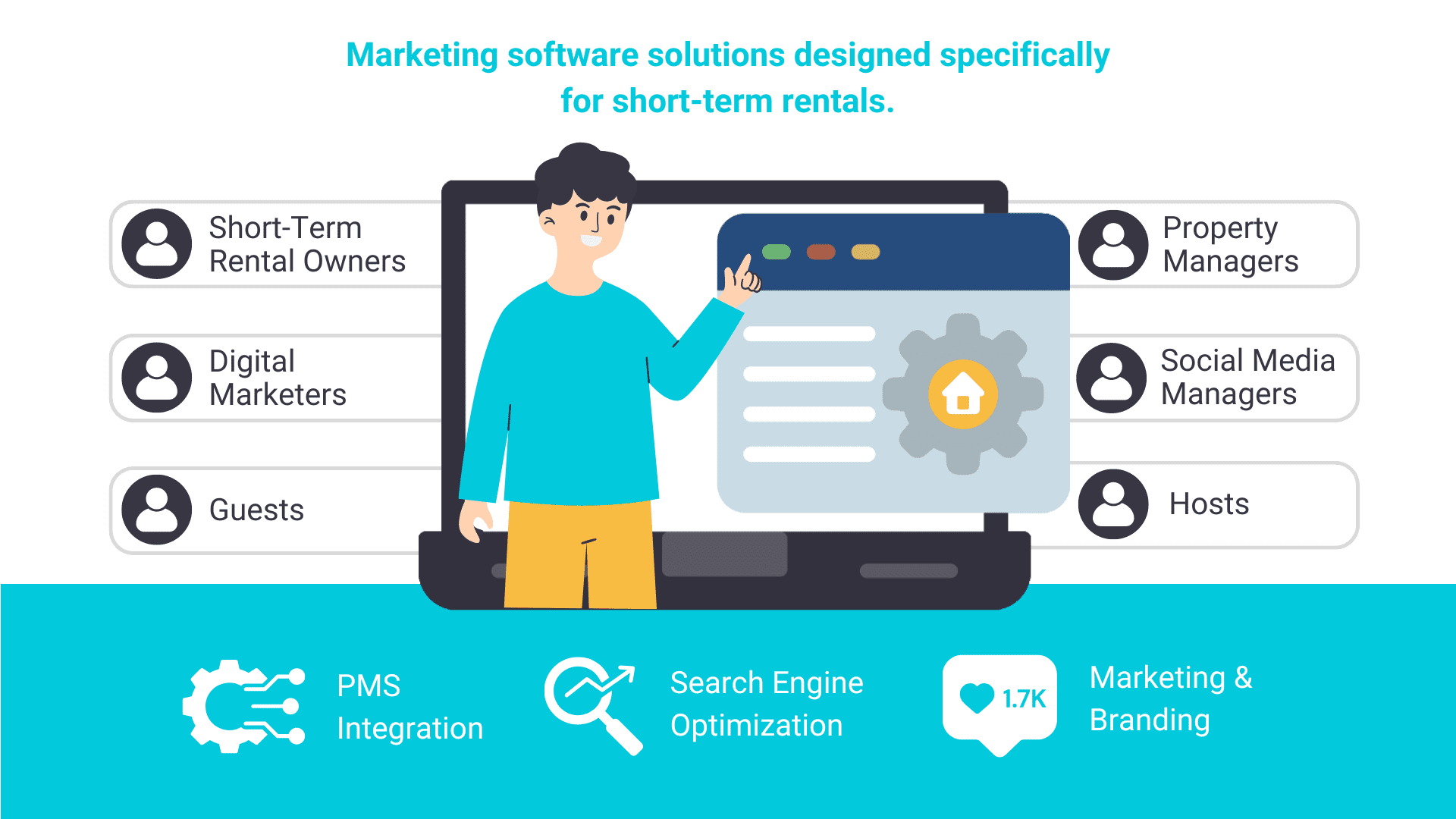 The rapid growth of the short-term rental market has inspired a wave of innovative marketing software solutions tailored to assist businesses in optimizing their marketing efforts. As a conscientious property manager or vacation rental owner, you recognize the crucial role marketing plays in ensuring the success of your short-term rentals. However, with numerous marketing software options available, finding the ideal solution can be daunting. Worry not! In this article, we'll delve into the  top 5 marketing software solutions crafted specifically for short-term rentals like yours. 

A marketing team that offers digital marketing consulting for vacation rental managers & travel brands that drives more bookings and clients to your business. They are offering four digital marketing services:
Search Engine Optimization –

their TLCK framework emphasizes the essence of enhancing organic search traffic. The fundamental components of this approach include technical aspects, link building, content creation, and keyword research, which serve as the foundation for each SEO strategy they develop.

Paid Search –

they work with modest & massive paid search budgets, striving to deliver a strong return-on-ad-spend for their clients.

Social Media –

maximizing Facebook, Instagram, and Tiktok to reach brand-new potential guests and introduce your brand and properties into their feeds.

Email Marketing

– despite common misconceptions, email marketing frequently ranks as one of the most effective, if not the top-performing marketing channels for our vacation rental clients.
Pricing: The pricing structure of their services is based on a monthly retainer model; collaborating with their team will effectively utilize key marketing channels to achieve desired results. The average retainer fee depends on the project scope, commencing at $1,000/month and extending up to $15,000/month.
LinkedIn: https://www.linkedin.com/company/buildup-bookings/

The primary objective of Vacation Rental Marketers is to deliver tailored online marketing strategies for businesses in the vacation rental management, hotel, and resort sectors, with the aim of enhancing their return on investment. They concentrate on search engine optimization, link building, and content marketing. The team consists of experienced online marketing specialists who possess in-depth knowledge of the travel and lodging industries.
Pricing: https://vacationrentalmarketers.com/get-started/
LinkedIn: https://www.linkedin.com/company/vacationrentalmarketers/about/

BookingSync's remarketing feature focuses on helping businesses retain customers and build their brand. It offers marketing features and resources to free businesses from relying on Online Travel Agencies (OTAs). With its integration with Zapier, it enables powerful marketing workflows using tools like Mailchimp to create targeted newsletters. The remarketing feature also includes sharing local news and events, alerting customers about new rentals, promoting special offers, and engaging customers on social media platforms. BookingSync aims to optimize social media sharing for targeted clients, increase customer loyalty, and maximize word of mouth about rental properties.
Pricing: You may request a demo and quotation from here https://demo-request.bookingsync.com/en/under-twelve.

Guest Hook offers marketing, branding campaigns, and copywriting services for vacation rental businesses. By combining data and creativity, they aim to help their clients attract more guests and generate more bookings for their properties through various marketing channels. Their services are as follows:
Marketing & Branding
Copywriting
Listing Site Descriptions
Guest Messaging
Pricing: Guest Hook offers several marketing packages, click here for full information.

Rental Scale-Up publish articles, hold online conferences, deliver reports and share content aimed at vacation rental managers in resort areas, short-term rental operators in urban markets, as well as closely-related businesses such as independent operators serviced apartments. Their weekly newsletter delivers no-fluff, actionable insights, insider tips and proven strategies to elevate your short-term rental business game.
💎 Conclusion
In conclusion, having a robust marketing strategy is essential for success in today's competitive short-term rental market. Each of the software solutions listed above offers a unique set of features, allowing short-term rental hosts to optimize their marketing efforts, streamline operations, increase bookings, and maximize revenue. When choosing a marketing software solution, it is important to consider the specific needs of your business and select a solution that aligns with your goals and objectives. And, by choosing the right solution that suits your specific needs and goals, you'll be well-equipped to thrive in the competitive short-term rental market.