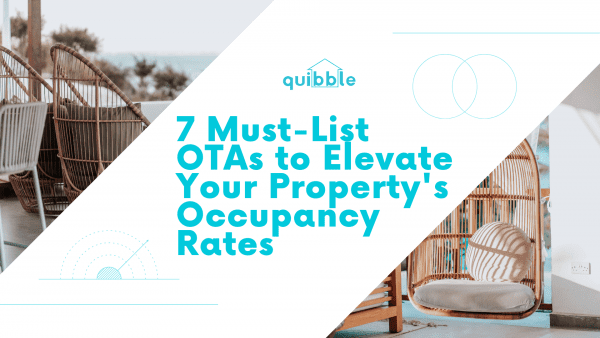 What are the Top OTAs to be listed on?
Online travel agencies (OTAs) have revolutionized the way travelers book accommodations, making it easier than ever for vacation rental owners to reach potential guests. By listing your rental properties on various OTAs, you can diversify your sources of income. Expanding your reach to a wider audience and increasing the number of bookings can enhance your earnings, and reduce the risks related to depending on a single platform.
In our previous blog post, we defined what is an online travel agency (OTA), and discovered the benefits of listing your property on multiple OTA platforms. In this article, we'll explore what are the top OTAs to be listed on that can significantly enhance your property's visibility and revenue potential. We'll delve into their histories, key features, and fee structures, helping you make informed decisions about which ones to consider for your listing.

Founded in 2008, Airbnb revolutionized the travel industry by providing a platform for individuals to rent out their homes or spare rooms to travelers. One of the leading OTAs worldwide, Airbnb has transformed the industry with its innovative approach to connecting hosts and guests. With over 7 million listings worldwide, it provides an extensive user base for property owners to target. Their simple booking process and reliable host protection programs make Airbnb a popular choice for both new and experienced hosts.
Key Features:
Easy listing creation with personalized descriptions, photos, and amenities.

Various booking options, including instant booking and pre-approval.

Host protection programs and reviews for increased trust.

Extensive community and support network.

Integration with Airbnb Experiences, allowing hosts to offer unique activities to guests.
Fees:
Airbnb charges hosts a percentage fee for each booking, typically around 3% for most reservations. Additional fees, such as service fees, may be applied to guests. See more details here: https://www.airbnb.com/resources/hosting-homes/a/how-much-does-airbnb-charge-hosts-288

VRBO has been connecting homeowners with travelers since 1995 and offers a curated selection of whole vacation homes, which can be booked directly through their website or mobile app. As part of the Expedia Group, VRBO offers exposure to potential guests on other high-traffic sites within their network. They also provide a variety of tools like their Book With Confidence guarantee and Host Assist program to ensure both hosts and guests have peace of mind during their stay.
Key Features:
Robust search filters to help travelers find the perfect property.

Flexible booking options, including instant booking or direct communication with hosts.

Secure payment processing and protection.

Option to offer long-term rentals or partial property listings.

Integration with HomeAway, a vacation rental platform under the same company.
Fees:
VRBO offers two main fee structures: annual subscription plans and pay-per-booking. The subscription plans vary based on property size and location, while pay-per-booking charges a percentage fee (around 5%-8%) for each reservation.

Originating in the Netherlands in 1996, Booking.com emerged as a platform primarily focused on hotel bookings. Booking.com has expanded into vacation rentals and now boasts over 29 million listings worldwide. With an established reputation as a global online travel agency, they attract millions of visitors daily. Listing your property on Booking.com gives you access to this large audience base while benefiting from their easy-to-use partner portal and strong customer support.
Key Features:
Extensive reach with a vast user base and global presence.

User-friendly interface with multilingual support.

Smart search algorithms for enhanced visibility.

No upfront fees or subscription charges for hosts.

Option for both instant and request-based bookings.
Fees:
Booking.com operates on a commission-based model, charging hosts a percentage fee (typically between 10% and 25%) per confirmed booking. The exact rate may vary based on factors like property type, location, and promotional agreements. Know more here: https://partner.booking.com/en-us/help/commission-invoices-tax/commission/understanding-our-commission

Established in 2000, TripAdvisor began as a platform for user-generated reviews and recommendations. It has since evolved into a comprehensive travel site, offering booking services for accommodations, flights, and more. By listing your vacation rental on TripAdvisor Rentals, you tap into this vast community of more than 490 million monthly visitors who come seeking travel recommendations. Additionally, TripAdvisor allows cross-listing on other popular holiday rental platforms like FlipKey and Holiday Lettings.
Key Features:
Vast user-generated content and reviews for increased credibility.

Integration with various travel-related services.

Detailed analytics and performance tracking for hosts.

Flexible booking options, including instant booking or inquiry-based communication.

Exposure to TripAdvisor's extensive user base.
Fees:
TripAdvisor also offers a commission-based fee structure, charging hosts a percentage fee (typically around 3%-5%) per booking. Additionally, there may be payment processing fees for certain countries or currencies.

Launched in 2019, Homes & Villas by Marriott International is a premium vacation rental platform. Leveraging the reputation of the Marriott brand, it provides travelers with high-end accommodations and exceptional service. Marriott International's foray into the world of vacation rentals, Homes & Villas, offers a unique opportunity for homeowners. While the platform is relatively new, it's backed by the Marriott brand's reputation and global reach. By listing here, you'll get access to their loyal client base and trusted booking channels.
Key Features:
Focus on luxury and upscale properties.

Strong brand association with Marriott International.

Verified listings and high-quality standards.

Personalized concierge services for guests.

Integration with Marriott Bonvoy loyalty program.
Fees:
Homes & Villas by Marriott International follows a commission-based fee structure, charging hosts a percentage fee (usually around 15%) per booking. However, the exact fee may vary based on factors such as property location and size.
Originally known for its flight booking app, Hopper expanded its services to include hotel and vacation rental bookings. It offers a unique combination of price prediction and booking features to help travelers save money. With millions of users, listing your property on Hopper can help reach guests who want to save money on their vacations. This app appeals to those who prefer to have all their travel bookings in one place.
Key Features:
Price prediction algorithms for optimal booking times.

User-friendly interface with personalized recommendations.

Option to set price alerts for desired destinations.

Flexible cancellation policies for increased convenience.

Competitive pricing for hosts and travelers.
Fees:
The company operates on a unique business model, which sets it apart from others in the industry, as it does not charge any commission fees on its hosts or service fees on its guests. Instead, the company gets discounted net rates from each property and applies a dynamic markup in order to offer the lowest prices while also maximizing their own profits.
Google Travel acts as an aggregator that combines flights, hotels, and vacation rental listings from various sources in one easy-to-use platform. By listing your property on Google Travel, you can gain visibility among internet users searching for accommodations near their destination. Look out for partnerships between Google and reputable OTAs like Airbnb or Booking.com for seamless integration. Many travelers start their search for accommodations using Google, making it essential to have a presence on this platform.
Key Features:
Extensive search functionality for flights, hotels, and vacation rentals.

Detailed property information, including reviews and photos.

Integration with Google Maps for location-based searches.

Price tracking and comparison tools.

Seamless booking process with trusted partners.
Fees:
Hosts will have to collaborate with one of their listed partners, such as Expedia or Airbnb, as Google Travel itself doesn't directly charge any fees.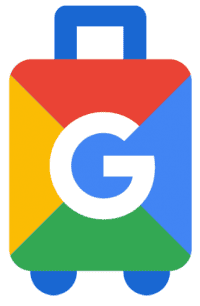 💎 Conclusion
Each OTA platform presents its own distinctive benefits and characteristics tailored to accommodate various demographic segments while simultaneously streamlining the entire experience for both hosts and guests. Gaining insight into the background, essential elements, and pricing models of these leading OTAs allows you to make well-informed choices regarding which platforms are most suitable for listing your property.
It's essential to take several factors into account when making this decision, such as the target audience you aim to attract, the kind of property you have, its geographical location, and the visibility you wish to maintain over your listing. Utilizing these powerful online platforms can significantly boost your property's exposure, increase bookings, and ultimately drive revenue growth in the competitive world of vacation rentals and accommodations.